Elopement Packages in New Zealand
Are you dreaming of the perfect wedding? Just you and your loved one high up on a remote mountain covered in snow? Or perhaps your magical wedding would be beside the glistening waters of a turquoise coloured lake, surrounded by a myriad of multi-coloured flowers? Or maybe you'd like to say your vows with your loved one in a beautiful little historic church, with beautiful country views?
Whatever your dream wedding, we have a range of flawlessly designed and planned elopement wedding packages in New Zealand. Our wedding planning services take care of every detail of your wedding, from hiring the marriage celebrant, to organising stunning wedding flower arrangements and bouquets, from hiring a professional wedding photographer to organising your New Zealand Marriage Licence. We take all the stress out of your special day and make all your dreams come true!
Church Elopement Packages
Do you dream of walking down the aisle of a gorgeous church, in your beautiful wedding dress, to say your vows in an intimate ceremony with your loved one? Standing beside an alter, with a priest officiating your wedding, in the sight of God? Our church elopement packages include the option of several beautiful, historic churches in a variety of stunning settings. After your wedding ceremony, your wedding photos can be taken beside glistening waters of Lake Tekapo, or with the backdrop of the Akaroa Harbour, or amongst the beauty of surrounding gardens.
You can also choose to have your wedding ceremony in the church, and then be transported by helicopter to a remote mountain top for magical wedding photos you will treasure for ever.
View all our Church Wedding Packages
Heli Elopement Packages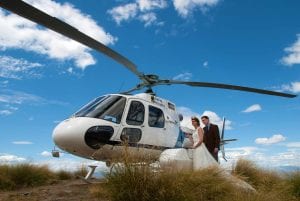 Eloping to New Zealand can be even more magical with a heli wedding on a remote mountain top destination. Our heli wedding packages take your dream wedding to new heights, with a spectacular helicopter ride, stunning views, remote locations, and some of the most awe-inspiring scenery you will see anywhere in the world.
Say your "I Do's" beside a magical hidden waterfall, on top of a vast mountain, in the snow beside a beautiful glacier or in a serene, intimate location that is only accessible by helicopter.
View all our Heli Wedding Packages
Lake Elopement Packages
The South Island of New Zealand has several stunning, world-famous lakes of brilliant turquoise blue colour, crystal-clear and surrounded by mountains.
Lake Tekapo is one of New Zealand's most famous and loved lake wedding destinations, with the historic Church of the Good Shepherd beside the waters edge you can say your vows in the church or beside the beautiful waters of the lake.
Other magical lake wedding destinations include breathtaking Lake Pukaki and picturesque Lake Wanaka.
View all our Lake Wedding Packages
Snow Elopement Packages

What is more romantic than saying your vows on top of a mountain, surrounded by snow?! Our dream snow elopement packages take you to some of the most pristine and untouched places in New Zealand with stunning mountain scenery, and soft fluffy snow.
Fly by helicopter to your chosen location and say your vows in a magical winter wonderland. Your wedding photos will preserve those perfect memories of a snowy heaven in beautiful New Zealand.
View all our Snow Wedding Packages
If none of our wedding packages exactly suit you, just get in touch with our wedding planners and we'll help you plan the perfect New Zealand wedding.
We look forward to helping you create the perfect dream wedding here in beautiful New Zealand. To find out more, call us on +64 27 201 2955 or email us [email protected].